The island of Bali in Indonesia is known worldwide for having many rituals in its culture. A classic example is offerings. As soon as the Balinese wake up, they are already preparing the first offering of the day. They say a prayer and put a small packet of flowers, fruits, cigarettes and incense in the family temple, because every house has its own temple. But wait … if the person has a business, he needs to prepare a second offering. If the person's profession is a driver, for example, this offer is placed on the dashboard of the car.
Bali 90% of the population is Hindu, but it can be said that there is a Balinese Hinduism, since there are many differences when comparing Bali with India.
This weekend I photographed one of the most important ceremonies for the Balinese people, a cremation. This is the moment when the spirit reconnects with the higher energy.
The Gamelan
Right away you are already impacted by the sound of Gamelan, a kind of orchestra with local instruments that closely resembles the sound of a Brazilian escola de samba. Music is very important in all Balinese ceremonies, and in the case of cremation, many of the sounds symbolize the fight between good and bad spirits.
The VIBE
The cremation vibe is difficult to explain because the atmosphere is practically party. Associating death with a party is not easy for those outsides of that culture.
There was drumming, screams, laughter and smiles.
Another difficult thing to assimilate is that we as "tourists" are welcome in this type of ceremony. Let me explain further: At the end of the ceremony, we talked to the daughter of the lady who was cremated. She was super receptive, so much that Yara even asked some questions. When we thanked her, she interrupted us and said that it was she who thanked us for our presence, that it was an honor for her mother.
At that moment we realized more clearly how happiness and sadness can go together in the same boat. From the way the daughter talked about her mother, it was clear that she was happy with the mother's reconnection with the spiritual plane, but that she was also sad because her mother was an example for the whole family.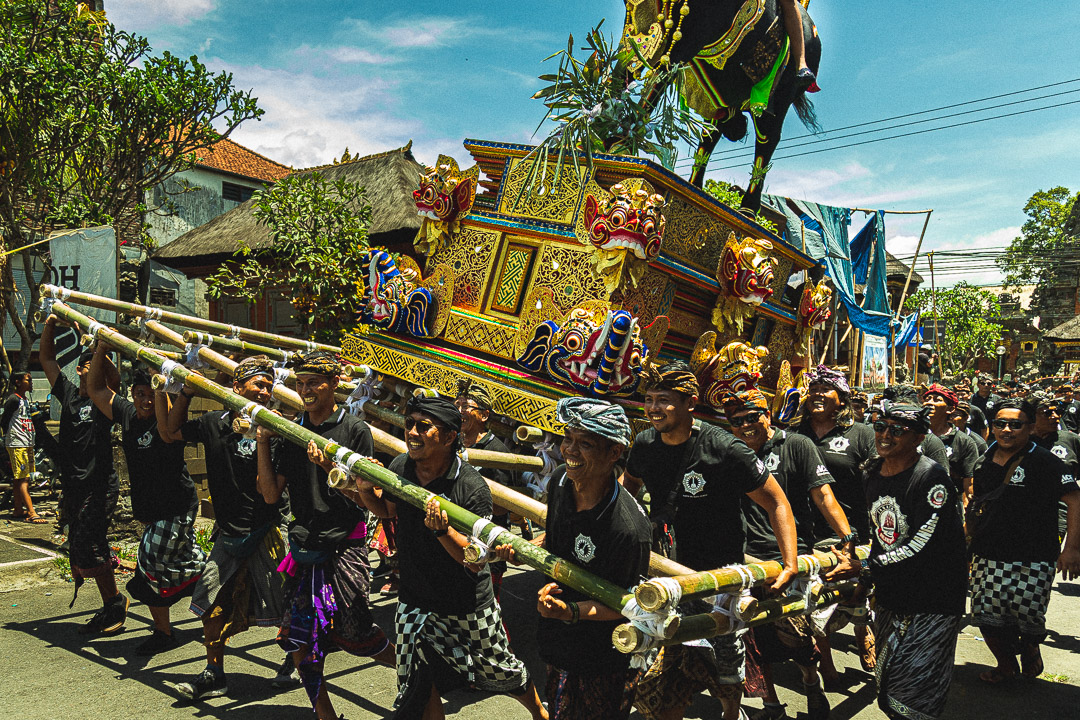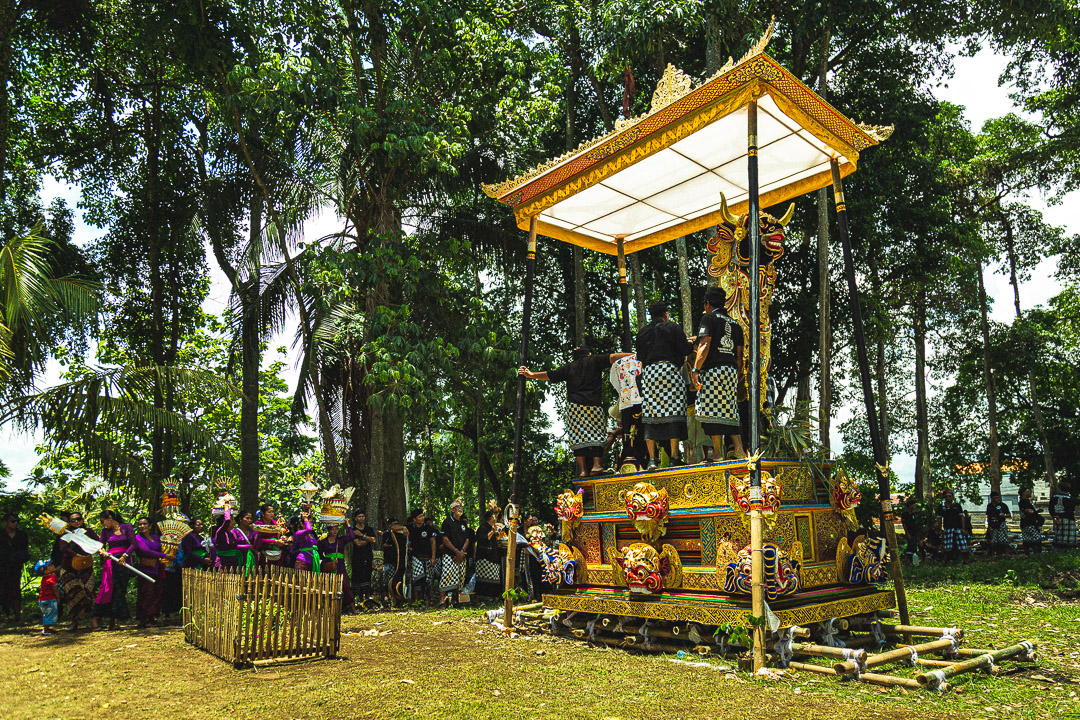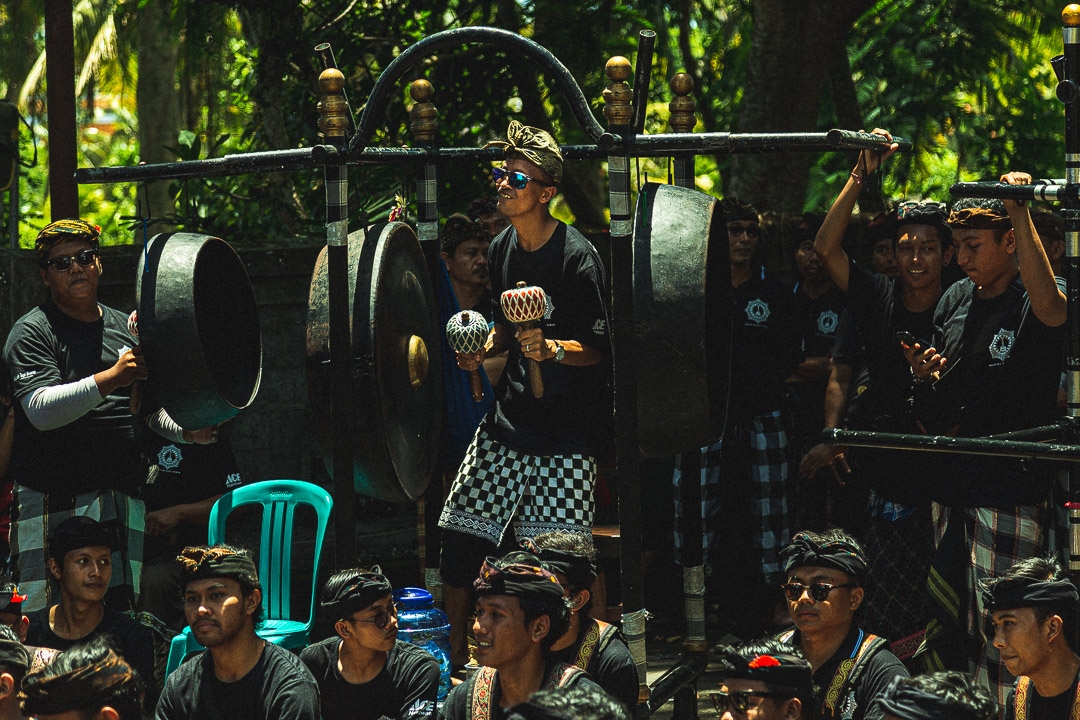 The Cremation
After all the preparation done by the priest – who is the most respected member of Balinese society and responsible for guiding the people to ensure the harmony of the universe – it is the family itself that begins to light the incense that will make the urn and the whole bamboo structure catch fire.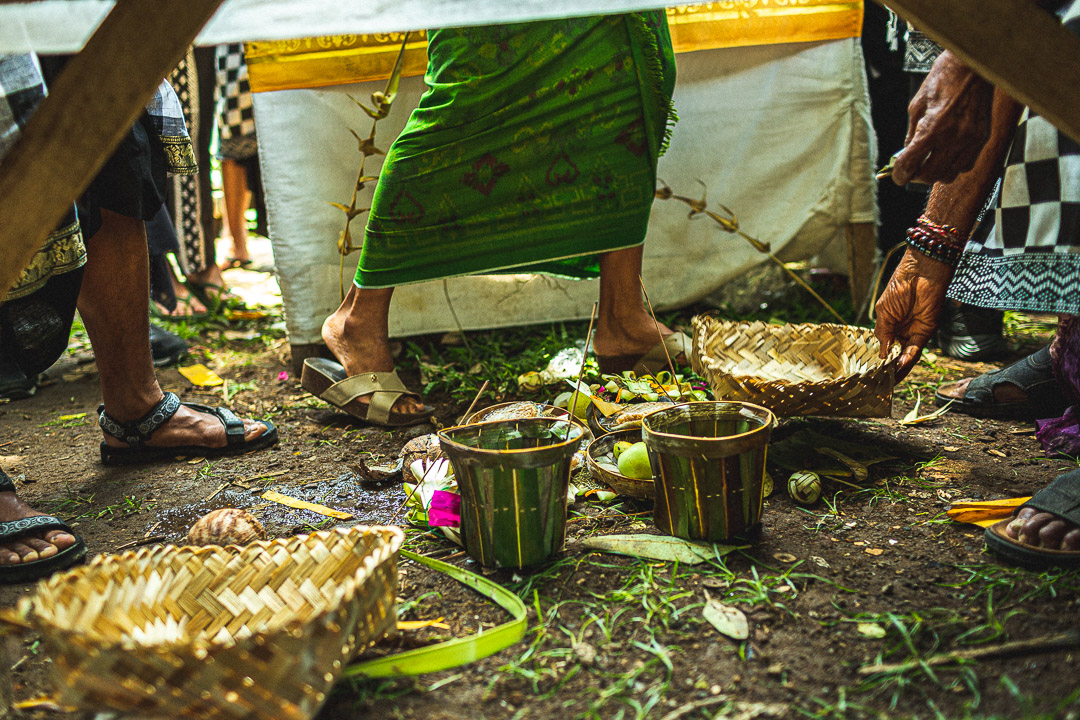 Bali Balinese Cremation Ceremony Cremacao Cremation Crerimonia de Cremacao Balinesa Gamelão Gamelan Hindu Hinduism India Oferendas offerings Ubud